Funeral Mass for Gene Domek
September 24, 2016

10:30 AM – Rosary
11:00 AM – Service

Sacred Heart Church
1040 39th Street
Sacramento, CA 95816

(corner of 39th and J Streets)
The funeral mass for our fellow Scout and friend Gene Domek is 11 AM Saturday, September 24 at Sacred Heart Church, corner of J & 39th Streets. I hope we can fill the church with Troop One uniforms as a sign of our support to Kathy Domek and Gene's entire family.
Beginning in the 90s, when his sons Andrew and Pat joined the troop, Gene served Troop One in multiple roles, including: High Adventure Assistant Scoutmaster (ASM), Committee Member, Merit Badge Counselor and Cody Committee Member. For many years after his sons aged out of Scouting, Gene supported Troop One in many ways. Hundreds of Scouts looked to his leadership and outdoor expertise on High Adventure outings, and his selflessness, willingness to help others, and positive approach in the face of challenges are values he carried through his lifetime. We estimate he helped between 200 and 300 scouts to earn the Environmental Science Merit Badge at Camp Cody.
Please share this message with all – thank you.

~~~~~~~~~~~~~~


Here are 60 of our 90 Scouts all composed into one photograph. Troop One as of November 2015. Click on the image to see full size. We hope to add more of our Scouts to this page.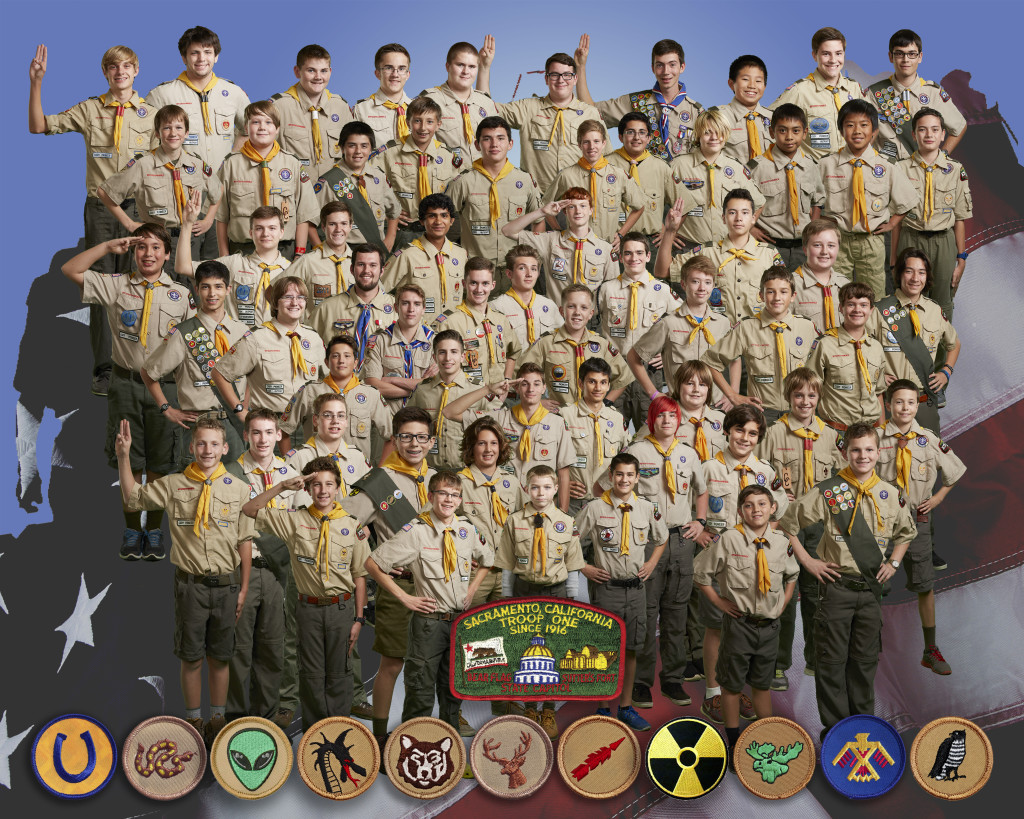 The whole Troop gathered by Patrol, Troop One recognizes "the Patrol is the method" of Scouting!
New Member Family Handbook pdf
Parent Resource survey. Please print this one-page pdf, fill in and bring to the parent meeting.
Troopmaster Web link
Troop 1 Merit Badge Eagle Schedule
Medical :: Outing planning :: FORMS
Photos from Troop One Events: Photos
Poems by John Allen Cann PoemsJohnAllenCann
Guide to Safe Scouting link: Guide to Safe Scouting